100 ft Rolls of Water Proof Film- All Sizes
Weight:

5.00 LBS

Shipping:

Calculated at Checkout
Bulk discount rates
Below are the available bulk discount rates for each individual item when you purchase a certain amount
| | |
| --- | --- |
| Buy 4 - 7 | and get 0% off |
| Buy 8 - 17 | and get 5% off |
| Buy 18 or above | and get 10% off |
Description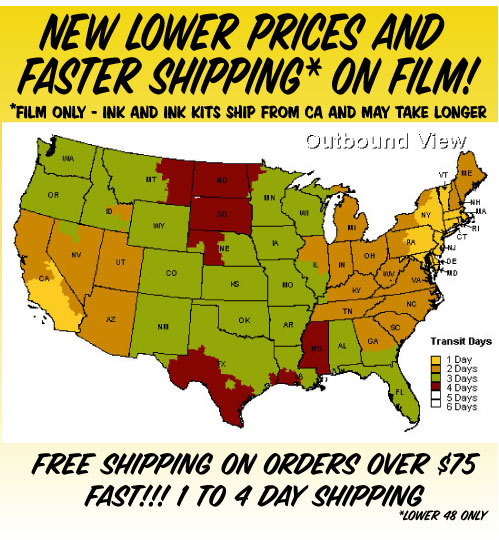 Get case pricing at any quantity! Save up to 5% with multi-case pricing over 8 rolls and 10% off super case pricing over 18 rolls. Add to cart to see discount!
We're now shipping film from CA and NJ. So with few exceptions we cover the whole country in 3 days or less!
It has never been easier or more affordable to produce quality film positives from an inkjet printer. Our FD film is a direct positive waterproof film with quick drying capability. FD film meets the most demanding requirements of screen printers who are interested in using their inkjets for imaging color separations. With a thickness of 4 mils and a micro-porous coating technology that controls dot gain, UV characteristics, and drying, FD is perfect for color separations. Manufactured for use with piezo printers, FD Film offers a Visual dMax of 4.0, a UV dMax of 3.7 and a dMin of .07.
Each roll is 100 ft in length
Holds registration, dimensionally stable won't shrink like vellum
Works with both dye and pigment inks., works with both piezo and thermal printheads
Designed specifically for the screen printing market
The same film we use daily for film output service
4 mil thickness provides better handling and density than vellum
Available in both sheets and rolls
Affordable
We do film and color separations, and that's all we do. This website is a culmination of years of experience, R&D, and most importantly feedback from you, the customer. We've tried many brands of inks, film, printers, and software. The products you see here are tried, true and tested. We only sell what we use. All our products are backed by our 100% satisfaction guarantee. If your not satisfied send us back the remaining product and we'll refund your money. If you have any questions about this or any product you see on this site feel free to drop us a call. Our knowledgeable staff will be happy to answer any questions you may have.
View All
Close
1 Review
Great Price & Fast Shipping!

I found FilmDirectOnline.com through a Google search in looking for a new film supplier, after the company I was using had been bought out, leading to a product with diminished quality. I placed one order with FilmDirectOnline.com and was extremely happy with the quality of this film! It is packaged well, runs smoothly through our Epson 4900 printer, and you simply cannot beat the film price, shipping turnaround, and shipping time! Not to mention the free shipping! We have now gone through 12+ rolls of film so far and we will be a forever customer!
View All
Close